Instructor Training Tabarka 2022 (Tunisia)
technical
28.10.2022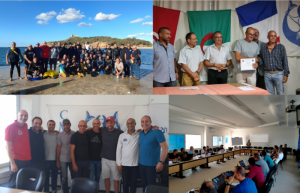 The "Tunisian Federation of Subaquatic Activities and Life Saving" has just -through its president Mr HABIB CHERIF and the president of the Technical Committee Selim Baccar- organized a special training for Tunisian instructors with the support of the CMAS Technical Committee. This special training was attended by many candidates M1, M2 and M3 from different countries (Tunisia, Morocco and France).
Mr Flemming Holm, who initiated this international training via several meetings with Mr Selim Baccar, wanted to provide a dynamic training with the new CMAS-training materials. This training must put the "Tunisian Federation of Subaquatic Activities and Life Saving"  back on the CMAS map; on a national and international level.
This training took place from the 1st to the 9th of October and was led by two CMAS experts, Mr Rezik Abdelaziz (Director of Standards and Equivalencies and CMAS Development Manager of diving in MENA Zone, Africa and Asia) and Mr El Aoud Abderrazak (Member of the Technical Committee).
These two CMAS Instructors were assisted by the three experienced experts of the Tunisian federation: Mr Mongi Zouaoui, Mr. Belgacem Zouaoui and Mr. Noureddine Aoudia who all did excellent work during this Instructor training.
During these nine days, we were pleased to discover the good level of knowledge of the candidates who demonstrated their professionalism and competence in diving had throughout the whole training.
We would like to thank the Tunisian federation for the extraordinary organisation and the support provided to the Instructors, but also for the success of this session which was highly appreciated by the candidates.
In order to answer to other requests for training, by the president of the FTASSA Technical Committee, another training session is planned in March 2023.
The CMAS Technical Committee thanks the Tunisian federation for this valuable action and supports it in its efforts to move forward.
Share this with your friends
More news