World Oceans Day 2019
Science
31.05.2019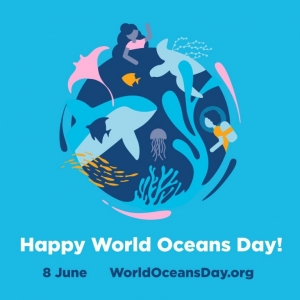 On World Oceans Day, people around our blue planet celebrate and honor the ocean, which connects us all. Get together with your family, friends, community, and the planet to start creating a better future. Working together, we can and will protect our shared ocean. Join this growing global celebration on 8 June!
It's fun and easy to get involevd with your CMAS federation and CMAS Divers! You can plan your own event and browse the event ideas for inspiration to plan a celebration for World Oceans Day! Register your event or find a already planned event to attend. 
Whether you live inland or on the coast, we are all connected to the ocean. Take the time to think about how the ocean affects you, and how you affect the ocean, and then organize or participate in activities that celebrate our ocean. Participate in a World Oceans Day event or activity this year and help protect the ocean for the future. It's up to each one of us to help ensure that our ocean is healthy for future generations. 
Be part of the CMAS family to protect our Oceans!

Share this with your friends
More news