Scientific Diving Training Course
Science
10.03.2017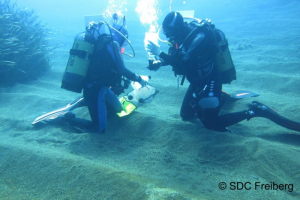 When: 07.-16.07.2017
Where: Scientific Diving Center (GER/S00) Freiberg, TU Bergakademie Freiberg
Contact:  Thomas.Grab@sdc.tu-freiberg.de or http://tu-freiberg.de/sdc  or +49(0)3731 393004
The Scientific Diving Center of the TU Bergakademie Freiberg offers a training course for students and scientists to qualify as "Scientific Diver" or "Advanced Scientific Diver". The next course will be from the 07.-16.07.2017 and the associated excursion to Panarea (Italy) will be in September. All scientific disziplines and also companies are welcome to the course. The training course consists of two modules.
Modul I
The course is separated in lectures in the morning and practical pool training in the afternoon.
Topics of the lectures can be adapted to the participants and will be e.g. oceanology, geoscience, hydrothermal systems, submarine volcanism, measuring equipment or photo and video documentation.  At the beginning and at the end of the course a two days dive camp with practical training in freshwater lakes takes place.
Modul II
The excursion will be a two weeks research project in the marine environment around the submarine volcano of the beautiful island Panarea, Italy from 01—06.09.2017. During the field trip the participants work on a scientific topic. Different working groups offer many topics in the field of e.g. geology, gas and water chemistry, microbiology, heat and material transport or photo and video documentation.  Own Ideas and topics from the participants are very welcome.
The prerequisite for participation is at least a CMAS**/VDST (or equivalent) diving license and a valid medical diving examination.
Successful participants of both modules will be credited as CMAS scientific divers and receive this brevier which enables them to participate in worldwide underwater research. Scientific Divers interested in becoming a Scientific Diving Instructor are welcome to contact the SDC Freiberg.
Contact:  Thomas.Grab@sdc.tu-freiberg.de  or  http://tu-freiberg.de/sdc  or +49(0)3731 393004
Share this with your friends
More news