German Ocean Foundation
Science
01.02.2016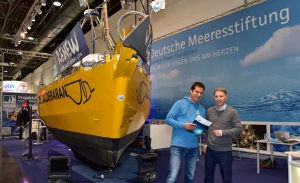 For a sustainable development of our oceans all actors from different disciplines and sectors have to pull together. This is the main principle of the German Ocean Foundation, which was established in October 2015.
Ralph Schill, President of the CMAS Scientific Committee, met Frank Schweikert from the German Ocean Foundation at the world's largest watersports trade fair "boot" in Düsseldorf, Germany.
The key role of the German Ocean Foundation is to moderate an interdisciplinary dialogue on a sustainable handling of the oceans between representatives of environmental policy, natural resources management, science and education, environmental protection, culture, shipping industry, fisheries, tourism and sports. The German Ocean Foundation is a non-profit organization and initiates projects and campaign, functions as a platform for information on ocean issues and supports the distribution of knowledge on use and protection of the oceans.
Share this with your friends
More news