First Meeting of the new elected Scientific Committee
Science
06.02.2014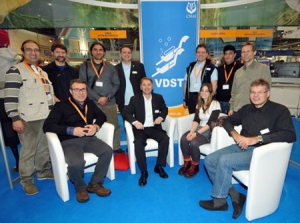 The new elected Scientific Committee met for the first face to face meeting during the BOOT 2014 show in Düsseldorf, Germany. On invitation of the VDST, the Scientific Committee met at largest Boot and Diving show in Europe for a 2 day meeting at 24 & 25 January.
This busy first meeting of the new elected committee was characterized by a motivating spirit and activities of all participants. One main aim of the meeting was to have an open exchange of views. Nevertheless first results will be presented for approval to the Annual Assembly in May in Rome. In addition the Scientific Special Course structure will be updated and harmonized.
Despite the busy schedule, there was still time for a guided tour through the dive hall, watching new developments and latest trends in diving.
Share this with your friends
More news