In Memoriam Minesweeper "Roberto Ivens"
Science
26.07.2017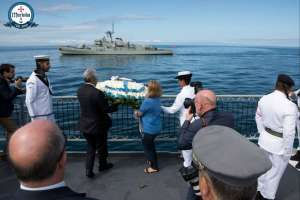 The minesweeper "Roberto Ivens" was hit by a mine on 26. July 1917, laid by the German submarine UC 54. Captain Raul Alexandre Cascais and 15 crew members died in the action.
The commemoration ceremony took place on 19. July 2017 on the frigate NRP Bartolomeu Dias togehter with the Portuguese Prime Minister, Minister of Defense, State Secretary, Admirals and guests of honour.

President of the CMAS Scientific Committee, Ralph O. Schill, thanks Paulo Costa (Instituto de História Contemporânea), Alexandre Monteiro (Instituto de Arqueologia e Paleociências), the Cultural Commission of the Navy and the Hydrographic Institute in Lisbon for their dedicated work and the commemoration ceremony.
Please, find more impressions:
Share this with your friends
More news