CMAS supports the Coral Reef Initiative
Science
09.01.2020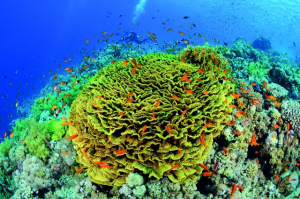 World Underwater Federation (CMAS) was accepted as a new member of the International Coral Reef Initiative (ICRI) at the 34th General Assembly in Townsville, Australia. The General Meeting was well attended, with over 80 delegates from all over the world, discussing the global challenge of caring and advocating for coral reefs and associated ecosystems.

ICRI was founded in 1994 and is an informal partnership between international organisations, science,  governmental and non-governmental organisations. It is regularly acknowledged in United Nations documents, highlighting the Initiative's important cooperation, collaboration and advocacy role within the international arena.

Coral reefs face many challenges such as climate change, overfishing, destructive fishing methods, coastal development, pollution or agricultural runoff which are endangering around two-thirds of the world's reefs. Prof. Ralph O. Schill, President of CMAS Scientific Committee commented: "This threats will result in the loss of the most biodiverse marine habitat. Preventing this requires determined action on a global as well as local level."
 
As a member of the International Coral Conservation Initiative, CMAS, together with its partners, is committed to preserving coral reefs and to raise awareness of the devastating prognoses for coral reefs and their effects on nature and humans as well as possible options for action in society. During the International Year of Coral Reefs 2018, CMAS published various free educational materials in different languages that provide information about coral reefs (www.cmas.org/science/biology-educational-materials). 

Around 30% of the world's reefs are considered to be already destroyed by human activity, and climate models predict a regular bleaching of nearly 90% of all reefs by the middle of the century. Increased protection and management efforts for the remaining reefs are therefore all the more urgent. Each individual can take concrete behavioural steps in this direction, for example by reducing CO2 emissions, avoiding plastic waste, diving carefully and avoiding souvenirs from coral reefs, focusing on sustainable tourism and supporting reef conservation projects. 
 
Share this with your friends
More news