6th International Course of Scientific Diving FPAS-CMAS
Science
19.05.2016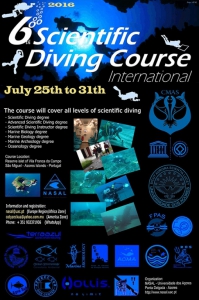 The Portuguese Federation of Underwater Activities (FPAS), with the support and endorsement of the CMAS, invite you to the 6th International Course of Scientific Diving in accordance with the standards established by the CMAS for the all levels of Scientific Diver.
The Course will take place at the Reserve islet of Vila Franca do Campo (RVFC), in São Miguel, Azores Islands, from July 25 to July 31 2016.
The course will be given in spanish and portuguese. The course will be directed by the CISD Paulo Costa Silva and CISD Ma. Clotilde Zeckua Ramos (Director of the Scientific Committee of the CMAS America Zone).
The course is intended for any scientific with proven experience in diving for scientific underwater activities, and professionally related to scientific institutions. An application must be sent by email to nasal@uac.pt and cotyzeckua@yahoo.com.mx
Related Documents
Share this with your friends
More news