12th International Symposiun on Underwater Research On-line
Science
28.04.2020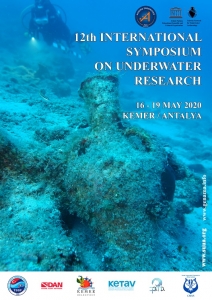 The symposium is scheduled to be held on May 16 - 19 of 2020 in Kemer of Antalya at the Mediterranean Coast of Turkey. Because of pandemic Covid19, all the sessions of the Symposium will be on-line by Microsoft Teams and live via YouTube. It aims to foster interaction among all concerned academicians, practitioners and researchers from different disciplines working on underwater sciences and research. Furthermore, it is anticipated to provide a platform for exchange of scientific and technical information and experiences among participants. This symposium is organized by Akdeniz University and Kemer Promotion Foundation; supported by CMAS Scientific Committee, DAN Europe and GAMA.
Submission date: May 10, 2020
The main thematic areas and topics of symposium are as follows:
Epidemic problems on harbour cities and sea voyages
Archaeological excavation and research projects at harbours
Underwater cultural heritage protection
History of the underwater archaeology and research.
Underwater and maritime archaeology.
Shipbuilding and ship constructions.
Museology and conservation of the underwater heritage.
Communication and media studies (education and careers in underwater technology, underwater documentation, etc.).
Photography (photography and visualization at underwater research, image interpretation, etc.).
Ecology and environment (coral reefs, artificial reefs, marine pollution, etc.).
Geology and earth sciences (costal zone management, underwater marine mapping, navigation, etc.).
International and local law systems of protection the cultural and natural underwater heritage.
Technology (development in diving technology, equipments, undersea vehicles, etc.).
Medicine and first aid (diving safety, first aid, diving physiology, etc.).
Living resources (underwater visual census, behavior of organisms, etc.).
Engineering (platform and marine systems design, construction, installation, etc.).
Tourism (commercial diving, underwater games, recreation, ecotourism, tourist submersibles, marine aquariums, etc.).
You may send your abstract until May 10, 2020 to
Share this with your friends
More news