1. CMAS Underwater Geology Course in Austria - 12-14. August 2016
Science
14.03.2016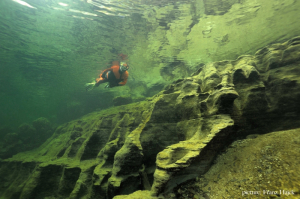 This first CMAS Underwater Geology Course, jointly organized by the Underwater federations of Austria (TSVÖ), Germany (VDST) and Switzerland (SUSV) will explore a part of the of the river Traun. The Austrian river Traun originates high up in the Alps and meanders slowly through the fabled lakes Toplitz, Grundl and Hallstatt in the beautiful area of the Salzkammergut, passes the Traunsee and joins the Danube.
We will get an insight into the basics of geology underwater and on land, and the composition and structure of the riverbed. This Course is open for all interested CMAS scuba divers who are interested in the amazing underwater world of our rivers.
Course language is in German.
The course takes place from 12th-14th August 2016 at the Atlantis Qualidive Center, Traunfall, Austria.
More information and registration at geologie@vdst.de
picture: The Austrian river Traun (Franz Hajek)
Share this with your friends
More news