The ITA January monthly webinar is dedicated to "Anti-doping rule violations: right to fair hearings"
Finswimming
16.01.2023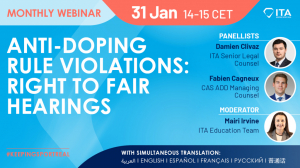 This month takes a legal look at anti-doping by examining hearing panels with a particular focus on the Anti-Doping and Appeal divisions of the Court of Arbitration for Sport (CAS).
The aim of the session is to explain what happens, and what to expect during the hearing process, such as:
What is CAS and the CAS Anti-Doping Division?
What is the decision-making process?
Who testifies, and what evidence is presented?
How and by whom are the parties represented?
Who is the judge or arbitrator?
What is the appeal process?
As always, ITA are pleased to deliver these webinars in English with simultaneous translation to four additional languages – Arabic, Spanish, French and Russian.
Topic: Anti-doping rule violations: right to fair hearings
Registration link: https://us06web.zoom.us/webinar/register/WN_BfRNwk7YSJSKo67ikrcU3A
Event date: Tuesday 31 January, 14:00 - 15:00 CET
Panelists: Damien Clivaz, ITA Senior Legal Counsel - Fabien Cagneux, CAS Managing Counsel - 
Moderator: Mairi Irvine, ITA Education Team
Share this with your friends
More news