Spearfishing Commission Meeting on 28.01.2022
Spearfishing
23.09.2022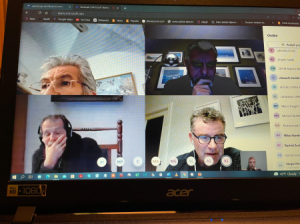 Attending on meeting: 
Michel Gaunard - President Sports Committee CMAS 
Valentina Prokic - Director of SF Commission CMAS - CROATIA 
Sergi Pérez - Secretary; SPAIN 
Nikos Kambanis; GREECE 
Ville Lahikainen; FINLAND 
Rifaat Bahri; TUNISIA 
Angelo Spada; SOUTH AFRICA 
Mohammad Thabit; EGYPT 
Cem ÖZKARACALAR; TURKEY 
Rachid Zock; LEBANON 
Avv. Marco Paggini; ITALY 
JORGE MARTIN HOCKO; ARGENTINA 
António Mourinha; PORTUGAL 
Karim Samir Chaouch; ALGERIA
Report on SF Commission activities 2021 and plan 2022 presented to Cmas Sports Committee. (Director Valentina Prokic) 
It is informed that EAC SF 2022 Tunisia was confirmed by BoD after receiving a letter from Tunisian Sports Government supporting the event. PRs to update and review before being posted on the Cmas website and distributed to EA NFs. 
PAC 2022 Candidacy was received from Brasil, request Dossier and proposal PR for Commission evaluation and BoD approval. 
After the meeting, on 11th February 2022, an official candidacy for WC 2023 has been received in Cmas HQ and SF Commission from Spain in Laredo (Cantabria). A full Dossier including PRs has been requested from FEDAS.
The commission nominated TDs for this year's competitions. Also, the new safety requirements list again send to BOD for approval. Members spoke about updates on swimming mode competition rules, after proposals and discussions Nikos Kambanis will update them and distribute them to members. 
Discussion about CMAS/N. Federations' liability towards athletes' accidents (specially taravana) during the course of international competition and the value of an especially drafted Liability release form. 
Insurance coverage is required in the future for any kind of risks and liabilities link to Cmas SF Championships or Competitions. What should be covered in the respective insurance policy contracted by Cmas, National Federation organizer, and (if any) local organizers (local federations, clubs, apnea or diving centers,…). Contacts in progress to identify other federations' practices on the matter. (Sergi Pérez feedback) 
Share this with your friends
More news