Spearfishing Commission meeting on 08.04.2022 via SportData
Spearfishing
23.09.2022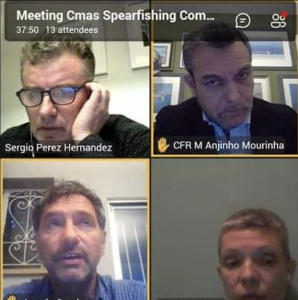 Members attending the meeting: 
CRO Valentina Prokic (SF Commission Director)   
BEL Michel Gaunard (VP Cmas Sports Committee)
SPA Sergio Perez Hernandez (Secretary)   
COL  Diego Leon Rodriguez    
FINL Ville  Lahikainen    
TUNISIA Rifaat Bahri  
SOUTH AFRICA Angelo Spada 
EGYPT  Mohammad Adel 
ITALY Marco Paggini SFC 
ALG Samir Chaouch  
PORT António Mourinha  
ARG  Jorge Martin Hocko 
LEB  Rachid Zock  
GRE  Nikos Kambanis 
TUR Ahmet Tekin
Member Diego Leon Rodriguez informs members about the progress of PAC 2022. Brasil, and Ville Lahikainen about the situation with European Freshwater Championship in Finland in august 2022. Members nominated TD's final for this year's competition. WC Cup for Clubs Croatia was canceled by the federation because of a small number of registration (5). Discussion about Laredo's (Spain) candidacy for WC 2023. As Scandinavian countries canceled. Discussion bout creating working groups on the proposal of the Sports Committee, about insurance and safety liability.  
Share this with your friends
More news