Skills courses for instructors were held in Egypt
technical
31.01.2023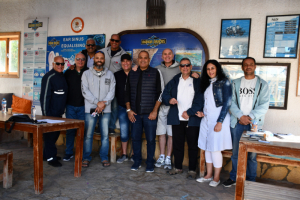 The CMAS Technical Committee (CMAS TC), in collaboration with the Egyptian Diving and Lifesaving Federation (EDLF), held skills courses to update instructor's qualifications. Mr Flemming Holmes (CMAS TC President), Mr. Abdelaziz Rezik (Director of Standards and Equivalences) and Mr. Sameh Nabil El-Shazly (EDLF President), as well as a group of Board members provided the seminars.
The events were held in Sharm el-Sheikh, Dahab and Hurghada, with more than one hundred instructors attending the three seminars.
The instructors were very open-minded and the professional dialogue between the participants was very inspiring. There was a similar positive and strong interest in the development of diving in Egypt.
In addition to the seminar, there was also the opportunity to move forward with the development of CMAS NITROX diving. In conjunction with the seminars, the graduation of three new Instructors Trainers was announced. Congratulations to Mr. Samed Mesharrafa, Mr. Muhammad Amin Abdo and Dr. Magdy R. Abo Aram for completing their CMAS NITROX instructor trainings.
The CMAS TC thanks the Egyptian Diving and Lifesaving Federation for the invitation, professional organisation and high quality of the seminars.
Flemming Holm
CMAS TC president
Share this with your friends
More news