Open talk "WOMEN'S DAY"
08.03.2022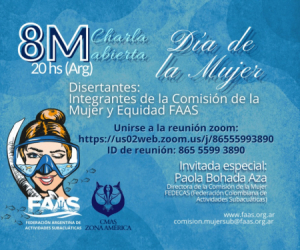 Tuesday March 8th we will talk about the historical origin, legal and philosophical framework and why Women's Day is commemorated on 8M.
SPEAKERS
Gala Berenice Abud: Lawyer - Notary Public - Director of the FAAS Women's and Equity Commission.

Johana Tato: Lawyer - Master in Mental Health.

Marina Do Souto: Doctor in Biology.

María Arce Pistone: Diving Instructor and Mathematics Teacher.
SPECIAL GUEST
Paola Bohada Aza (Col)
Professional in Sports Administration. Specialist in sports business administration. Former high-performance finswimming athlete. Multiple medalist and National record holder in speed tests. Colombian National Team 1996 - 2012. World finalist in speed tests.
---
Join Zoom meeting
https://us02web.zoom.us/j/86555993890
Meeting ID: 865 5599 3890
Share this with your friends
More news