XX Semana Master, Palma de Mallorca, Spain
Spearfishing
09.02.2023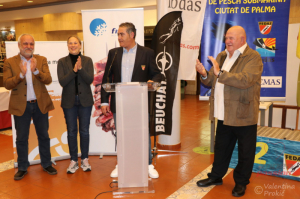 After two years Semana Master, a traditional spearfishing competition that is held in January in Palma de Mallorca has returned. Organized by the Balearic Federation of Underwater Activities this edition brought back spearos from Spain, Italy, France, Greece, and Brazil, together with more than 100 athletes men and women, and organizers. This XX edition of Semana Master has been a tribute to Andres Sureda Milan, three times world champion as a captain of the national team of Spain. 
Malen Sart, world champion from Italy and winner of the last edition in 2020. won III CMAS Women's Cup, in memory of Jose Antonio Olmedo. The New Master of Semana Master is Eugene Guillaume, a spearfisherman from France. This was his first victory in Master Tournament. Guillaume, together with his teammates from FNPSA won the VI CMAS World Cup of Nations. Blausub team, Alex Abato Edwards, Julen Perez and Raul Ojeda Izquierdo were the winners of V Brands World Cup. 
The biggest competition XXI Open Ciutat de Palma –  X Memorial Sebastia Carbonell won Sitcolgues team, Juan Campins, Carlos Martorell, and current champion of Spain David Fernandez Montero. 
Even though the weather was rough and cold, some of the athletes brought nice catches. Gabriele Delbene caught the biggest fish of the Master competition, grouper 12982 grams heavy. At the Open participated 21 teams with 59 athletes and the Sitcolgues team had 13 fish among them two white groupers, the heaviest one had 13868 grams. 
As always all the fish that was caught during two days of competition was donated to the organization SOS Mamas which takes care of poor people. 
Share this with your friends
More news