From February 27 to March 11, CHINESE UNDERWATER ASSOCIATION (CUA) organized the first international online diving instructor upgrade seminar
technical
25.03.2022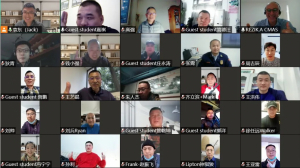 This seminar was attended by more than 60 instructors from this federation.
The technical staff of the CUA federation wanted to update the knowledge of the instructors with the new teaching methods and materials provided by CMAS.
During this seminar, the CMAS expert Mr. Rezik Abdelaziz, director of standards and equivalences, presented a series of lectures on diving pedagogy, evaluation, and instructors training according to the latest 2020 CMAS standards. 
It was also an opportunity to present and discuss the new Instructor Training Manual and our new E-learning platform.
The interest of the participants was very impressive. There was a high level of seriousness and professionalism during the seminar. The discussions were very productive and constructive.
I would like to thank the CUA federation staff and their teams for the professional organization of this seminar and all those who made this event a success on all levels. And also thank my friend the director of standards and equivalences Mr. Rezik Abdelaziz (Zizou) for a job well done.
Flemming Holm
President CMAS Technical Committee
Share this with your friends
More news