International Sports Diving Judges Course
Sport Diving
10.08.2022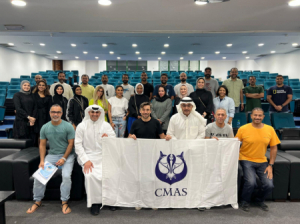 From 1st to 4th of August 2022, a training course for international sport diving judges was held at the request of the Kuwaiti Diving and Rescue Federation. 
This training, managed by Maxime LARCHER Director of the Sport Diving commission, allows for this discipline to be firmly engrained in this country, which has already been present in several international competitions and who wishes to progress in this direction to improve their knowledge and their level of experience.
The session consisted of about 40 people who were very happy to be trained and to take part in this training!
Share this with your friends
More news