CMAS European Cup 2020
free diving
05.11.2020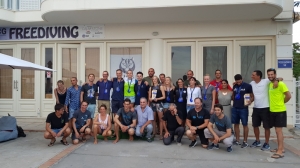 The European cup took place at Kalamata  Greece from the 12th – 16th September.
Because of COVID, sports worldwide is suffering greatly and the organisations of athletic events were greatly impacted and many big events were canceled.
The athletes had to fight with the restrictions in travels, and needed to take precautions from contracting the virus.
Despite the problems the CMAS supported competitions in areas that had little or no restrictions.
Kalamata was one of these places. 
The conditions were perfect and the organisers, Freediving Club of Greece and the Greek Federation invested a lot of effort which resulted in a very well organised and nice competition where all athletes felt relaxed and comfortable to achieve their goals.
The disciplines were CWT, CWTB,FIM and CNF
There was good participation of athletes for this competition, we had 20 athletes from 14 different countries.
During the European Cup we had many National records and 4 World Records
The new World records are:
Alenka Artnik  Slovenia WR 94mt CWTBifins
Arnaud Gerald France  WR 112mt  CWTBifins 
Also we had for first time in freediving history a new category for Masters which is for athletes of 50+ years old which resulted in 2 World Records in the Masters category.
Mark Lenoir  France WR 57 mt FIM masters category  
Xavier Daru  France WR 60 mt  CWTBifins masters category   
We congratulate them all in their success.
We wish all athletes worldwide every success, to stay strong and to continue training hoping that next year will have more options and greater success. 
Share this with your friends
More news