8th edition of the Panamerican Spearfishing Championship, Cabo Frio, Brasil
Spearfishing
04.12.2022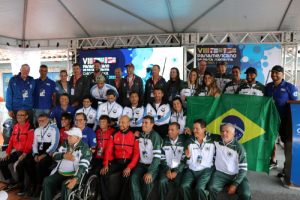 Eight editions of the Panamerican spearfishing championship were successfully organized in Cabo Frio, Brasil from November 2nd to 6th 2022. All the efforts of Cabo Frio Nautical Club, its members, and volunteers, Cabo Frio City Hall, and the Secretary of Tourism. Sport and Leisure and the Brazilian Confederation of Fishing and Underwater Sports (CBPDS) were rewarded by the big win of the Brazilian National Team. First, three places for men, first place for a woman, and both titles in team results were something that everyone in the Brazilian spearfishing community dreamed of. 
Especially the new Panamerican champion Sergio Paulo Pacheco, the 64-years old Brazilian legend because this was his first title in South America. Second and third place took younger spearos Gabriel Barra and Gabriel Santana.
Only two teams competed in female competition, three Brazilians and two from the USA. The reason why so few is that female still doesn't need a qualification for WC as CMAS trying to encourage more female athletes to compete and it is well-known funding for ladies in almost all countries is still not at the same level as for man athletes. Between five female spearos, only two got a valid catch in two days, Rosibel Molina from the USA had one valid fish on day 1, and Brasilian Hanna Lamar on day 2. The red porgy (Pagrus Pagrus) that Lamar caught was heavier (1485 grams) compared to Molina's Bermuda chub (Kiphosus sectatrix) 1310 grams so Lamar got her first Panamerican title, and Molina finished second. For sure conditions were very hard, even during preparations. For some that are not used on big waves, it was even harder. Visibility was also changing a lot from shallow to deeper spots so it was tricky to find the place where you can get fish. The cold front that passed just before the competition brought uncertainty in what athletes can expect on days 1 and 2 in depths as they had two days rest without diving. 
Team USA win historically 2nd place, as the last time when they step up to the podium overseas was 1983. also second place. Seven years ago the USA was third in the Panamerican championship in Acapulco 2015. Mirco Zannela got the trophy for biggest fish, black margate 5220 grams heavy. Third place took Argentina. 
The biggest thing was that the organization of Panamerican with competition director Jairton Querino Goncalves, who was alfa and omega of complete competition donate all the fish caught during the championship to the poor and needy people. Goncalves was on top of all logistics and had a great team around him so the competition past in excellent spirit, and atmosphere and without problems. CMAS Technical Delegate Eric Salado from the USA had only good words for the Panamerican championship and wished Brazilians that shortly they prepare their candidature for the World championship.
Share this with your friends
More news