33. CMAS Euroafrican Spearfishing Championship, Bizerte, Tunisia
Spearfishing
23.09.2022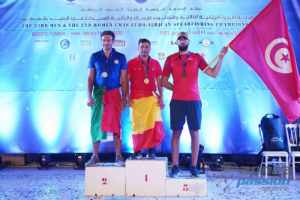 Cervantes and Martinelli winners
The Spanish spearfisherman Oscar Cervantes and the Italian Tiziana Martinelli win the 33° Men and 2° Women CMAS Euro-African Spearfishing Championship. Spain wins the Teams title in the men's standings and Italy in the women's. The Italian and World Champion Giacomo De Mola was second and the extraordinary Tunisian Ahmed Ben Salah was third with a fantastic podium at home.
Behind Martinelli, second finished Alessandra Totaro and third Alice Ferrari. 
13 nations have participated in the 33° Men and 2° Women CMAS Euro-African Spearfishing Championship in Tunisia, Bizerte with a total of 37 men and 9 women. 
At the end of the day, it was Oscar Cervantes to obtain an amazing result with 13 valid fish and 4 different species. 
Behind Cervantes World Champion Giacomo De Mola. The Italian Champion catches some huge fish and 5 species, 8 catches (77.89%), not enough to beat the Spanish. The third was another Spanish, the excellent David Fernandez, a little bit far though from the first two (56.27%), with 7 valid fish and 4 species.
At the end of the day, 1 first was the Italian Alessandra Totaro with one valid fish, a mullet of 735 grams. Behind her, was her teammate, Alice Ferrari, with a white sea-bream of 564 grams (90.14%). All the other women competing simply did not manage to catch valid fish.
The Greek Gerasimos Kavvadias was the real conqueror of day 2, with an extraordinary amount of prey caught, 10 fish, and 6 different species. He was the first of the second day of the competition.
Second, on day 2 was another great champion, Ahmed Ben Salah, confirming and improving his great performance on the first day (4 fish, 3 species, and 87.14%). The third was Giacomo De Mola, with 7 fish and 6 species (77.89%), and the fourth was Oscar Cervantes (75.74%), also with 7 fish but only 4 species. Among the women, it was another difficult day, with once more only two athletes catching valid fish. The World Champion, the Spanish Magdalena Sart, catches a valid brown wrasse of 563 grams. But the winner of the day is Tiziana Martinelli, with a Grey Triggerfish of 1391 grams, with which she also wins the Title.
An extraordinary catch, the biggest of the competition, is made by Valerio Losito, with an amazing meagre, also called jewfish or Corvina of almost 30 kg.  
Finally, with first and fifth place, Oscar Cervantes, the amazing Spanish athlete, won the Euro-African title. Giacomo De Mola finished second behind the Spanish. The third was an extraordinary Ahmed Ben Salah, the Tunisian Champion with a fifth and second position. 
Share this with your friends
More news