100 divers are carrying out a project to develop diving in the northern region of Morocco
technical
25.03.2022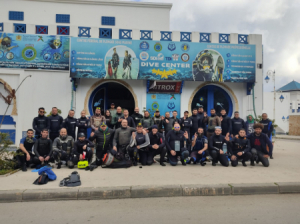 The president of the Royal Moroccan Federation of Diving and Subaquatic Activities Mr. Alazrak Abdelaziz has undertaken a unique training initiative in the world by organizing a diving training for more than 100 divers who are carrying out a project to develop diving in the northern region of Morocco in collaboration with the president of the technical committee of the CMAS Mr. Flemming Holm.
The FRMPAS ambition is to create 100 diving centers, and this by ensuring quality training for young people wishing to invest in this field strong in tourist potential.
The first training started on 8th March 2020, for the first group of 35 divers selected after practical exams and entrance tests.
The training is under the direction of CMAS experts MR Abderrazak El Aoud president of the technical committee of the FRMPAS and Mr. Rezik Abdelaziz director of standards and equivalences with the support of a staff of local high-level instructors Moulay Taib Kettani and Adil Akesbi.
Flemming Holm
President, Technical Committee
Share this with your friends
More news