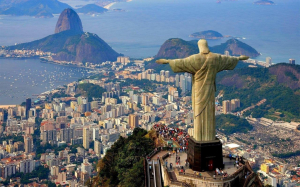 World Cup for Clubs in 2024. will be held in Rio de Janeiro
Rio de Janeiro will hold a CMAS world spearfishing competition again after 61 years.  The iconic coastal city of Brazil will be the venue of the 2024 CMAS Spearfishing World Cup of Clubs, to take place from 7 to 10 March, at Marina da Glória downtown Rio.  Thirty clubs from around the world, set up in teams of three divers per boat, will compete for the title of Spearfishing World Cup Champion in the same islands that Brazilian spearfishing legend, Bruno Hermanny won his second spearfishing world title in 1963.
Because of this unique position, Rio's coast holds fish from both tropical and sub-tropical ecosystems.  In the same dive, a spearfisherman can spot a Mediterranean dusky grouper, the tropical black grouper, and a cobia, while surrounded by a school of yellowtails, species that don't meet in any other body of water on the planet.  The rocky bottom with big ledges and caves will favor the technique of the European divers that will find spearing conditions in Rio similar to what is found on the old continent.  
The competition is organized by APPS (Associação Paulista de Pesca Sub).  There are only 30 spots for clubs to register, which will be fulfilled on a first-come, first-serve basis.  Spot on the roster will certainly fill up fast as Rio's appeal and fish will draw lots of interest from CMAS's giant spearfishing community across the world. For clubs and federations interested in competing, registration and details will soon be posted on the CMAS website.
Related Documents
Share this event with your friends