Para-Freediving Joins The World Games 2025
free diving
28.07.2023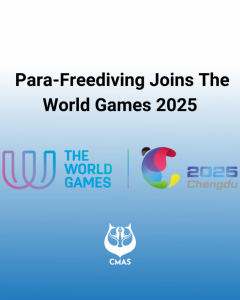 We are thrilled to announce that Para-Freediving has been officially included in the prestigious program of The World Games! Get ready to witness some of the most daring and inspiring athletes from around the globe, as they take on the depths with incredible determination and skill.
Join us in celebrating this groundbreaking moment for the world of sports! We can't wait to witness the extraordinary feats of these para-freedivers, as they dive deep into uncharted waters to compete for the ultimate glory at The World Games 2025!
Stay tuned for more updates and highlights as we bring you closer to the action and the incredible stories of these exceptional athletes!
Mark your calendars for the 12th edition of The World Games, happening from 7th to 17th August 2025 in the vibrant mega-city, Chengdu, China!
Share this with your friends
More news