CMAS World Freediving Indoor Championship 2022 - Belgrade
free diving
29.06.2022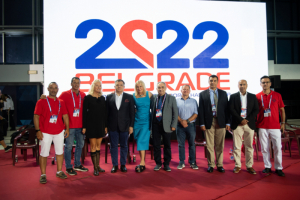 The CMAS Freediving Indoor World Championship 2022 took place from 10-16 June 2022 in Belgrade.
The program of the Championship included 7 disciplines. Two disciplines every day except the 2nd day where it was only DYNBF. So, every day there were one discipline in the morning session and one discipline in the afternoon session. 
The program was as follows:
12 June - Dynamic without Fins (DNF) 
                -Speed-Endurance 16x50m
13 June - Dynamic with Bi-fins (DYN BF)
14 June - Static (STA)  
                -Speed 100m
15 June - Dynamic (DYN)  
               - Speed-Endurance 8x50m
The total participation was 130 Athletes from 28 countries. The best athletes of the World participated in the Championship, so we had 5 new World Records, Continental Records and many Records for Masters Category. Master's and juniors' categories are new for the sport and it was at Belgrade the first time that we had indoor masters and juniors' categories.
WORLD RECORDS SENIOR'S CATEGORY
| | | |
| --- | --- | --- |
| JULIA KOZERSKA | POL | 210 DNF - DYNAMIC WITHOUT FINS |
| MIRELA KARDAŠEVIC | CRO | 250 DBF - DYNAMIC WITH BI-FINS |
| MIRELA KARDAŠEVIC | CRO | 275,36 DYN - DYNAMIC WITH FIN |
| GUILLAUME BOURDILA | FRA | 274,7 DBF - DYNAMIC WITH BI-FINS  |
| MATEUSZ MALINA | POL | 321,43 DYN - DYNAMIC WITH FIN JUNE  |
There were also achieved several Continental records and Masters records
All results are published at CMAS Facebook page https://www.facebook.com/cmasorg, and CMAS website: https://www.cmas.org/apnoea/world-freediving-indoor-championship
The World Championship was organized by CMAS and Serbian underwater federation with a team from 120 persons in different positions led by Božana Ostoji?, the President of the Serbian Underwater Federation, who has 16 years of experience in organizing freediving competitions (including 4 World Championships). 
CMAS Technical delegate was Dimitris Koumoulos from Greece. 
Chief judge of the Championship was Orhan Ölçücüo?lu from Turkey and assistant judge was Marwan Hariri from Lebanon. The full judge team was formed from 18 more local judges. 
Safety team from 15 safety divers led by Marko Mladenovic. 
At Belgrade during the championship were present the CMAS President Anna Arzhanova and the Director of CMAS freediving commission Tolis Bellos.
The organization and the live stream coverage came from a team of 15 professionals TV cameramen and reporters, so the level of the streaming and the presentation of the Championship was awesome.
You can watch the streaming of the event at YouTube
2022 CMAS WORLD FREEDIVING INDOOR CHAMPIONSHIP
https://www.youtube.com/channel/UCcYUmE76YcpgRy9-ZksOsRg
Highlights of every day also can watch at the links:
Photos from 2022 CMAS WORLD FREEDIVING INDOOR CHAMPIONSHIP by  David Damnjanovic
https://drive.google.com/drive/mobile/folders/1yx2msP2w8xIAzV4BQLf6eH5PDCxnItpX
Share this with your friends
More news